FORM-WORKS
The ninth edition of the Concrete Design Competition hosted the theme 'FORM-WORKS'. It ran in Belgium, Germany, the Netherlands and Ireland. Coordinating country Ireland was host of the workshop for Laureates, planned in Dublin in August 2020. Due to the global Covid pandemic, the workshop was first postponed to August 2021, and later changed from an in-person hands-on experience into a remote digital one. Patriciapants worked in international groups, designing their proposdals. those were produced by a small team in Delft with various digital fabrication techniques.
In October 2021 the whole group was able to finalaly meet in Dublin for a weekend in which the results could be seen, touched, and debated.
2019 - 2021
concept, format, coordination & management, tutoring, communication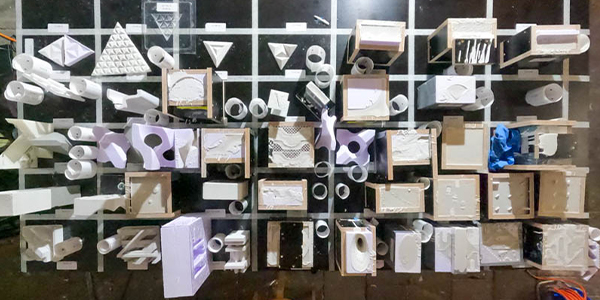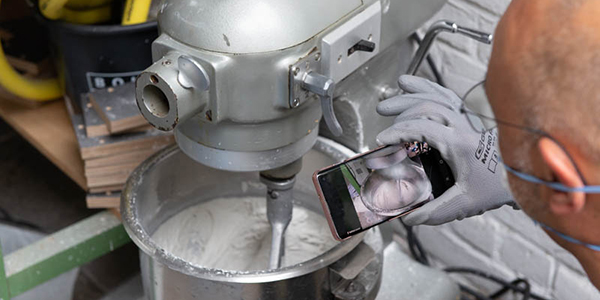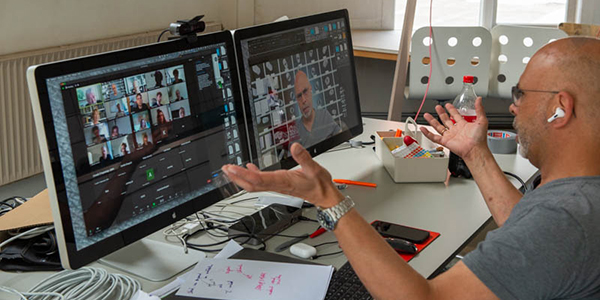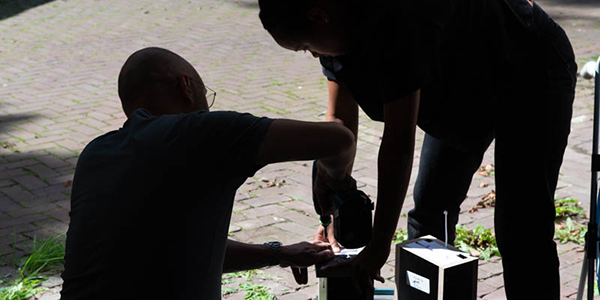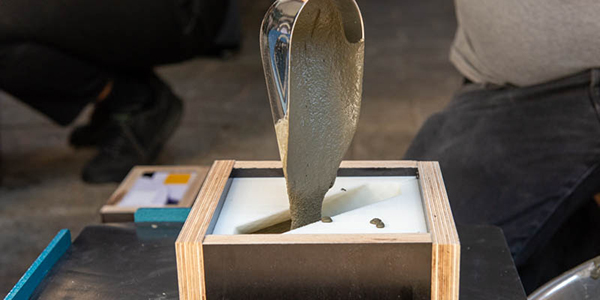 Ninth Concrete Design Competition on FORM-WORKS
One of concrete's most defining properties is its change from a fluid state into a rigid one during the process of curing. The liquid concrete is poured in a mould that can hold almost any shape, thus presenting the other main characteristic of concrete: it can take almost any form and texture. Traditionally these two properties are interdependent and over past times refined, developed and taken advantage of for architectural expression as well as for industrial efficiency.

We all know 'beton-brut' or 'brutalism' as one of the more expressive styles of applying concrete. Making most of its capability to mirror the formwork textures and combining form with concrete's mass as a major feature to create architectural or sculptural works expressing sturdiness, robustness, or durability. Similarly, the formwork textures and shapes can be utilized to express elegance and sophistication, through a refined play with shadows and smoothness, slender structures and curved surfaces. Due to being able to produce almost any form, concrete elements can directly show structural principles or shape complex spaces.

Current developments on formwork technologies aim to industrialize the processes of creating formwork. From a more craftmanship-like technique towards a more robotically driven one. In part these developments are driven by the ambition to extend parametric design possibilities to economically viable manufacturing processes, thus creating the opportunity for designers and clients to create complex and efficient structures, while maintaining an abundance of formal options to explore. Parallel ambitions on topics as sustainability and circularity also demand adaptable systems that minimize waste materials and optimize speed and accuracy. The developments range from CnC-milling formwork parts to 3D-printing directly with concrete, eliminating the formwork altogether. In between we'll find experiments with fabric formwork systems, 3D printed formwork with reusable materials, robotically assembled traditional formwork materials, and so on.

What remains are the properties of concrete that define its architectural and structural use, its textures and the shapes it can take and create. FORM-WORKS intends to identify specific concrete potential in terms of production as well as in terms of expression and presence.

The 9th Concrete Design Competition on FORM-WORKS asks students of architecture, design, and engineering to explore and exploit the potential of concrete's properties with respect to any notion of FORM-WORKS. These can be related to inherent material properties, concrete's production processes, and its application in new or existing structures. They may address aesthetic desires, structural systems or fabrication methods and comment on economic realities, sustainability demands or social issues.

This competition does not prescribe a specific location or program; participants can choose a context of their own that supports their fascinations and ambitions and that fits an acute presentation of their ideas. Proposals may range from objects, furniture, and architectural details, to housing, landscape interventions, complex buildings, infrastructure, and structural systems. Competition entries need to address technical and functional aspects as well as formal and programmatic ones – ideas need to be tested through design proposals to convincingly demonstrate their potential. They will be reviewed on the combination of inventiveness in addressing the competition's theme and architectural implications.

The 9th Concrete Design Competition – FORM-WORKS runs in four European countries during the academic year 2019 - 2020. National laureates will be invited to participate in a weeklong international workshop in Ireland (August 23 - 29, 2020) facilitated by the industry featuring renowned lecturers, experts, and critics, further exploring concrete and FORM-WORKS.
initiative

Betonhuis Cement - Cindy Vissering
Cement Manufacturers Ireland - Richard Bradley
FEBELCEM - Noël Naert, Jean-Francois DeNoël & Arnaud Tandt
InformationsZentrum Beton - Ulrich Nolting
master class participants:

Leander Decloedt, 
Koen van Dijk, 
Luis Frisch, 
Vanja Jovancic, 
Andras Kispal, 
Jemina Lai, 
Florian Lapport, 
John Moran, 
Kate Newe, 
Wouter Persyn, 
Katy Rea, 
Leo Ritter, 
Mirthe Schots, 
Alex Tsalkizidis, 
Dries Voet & 
Ine Verhaege
tutors:
Siebe Bakker &
Gregor Zimmermann
Fabrication team:
Siebe Bakker, 
Camille Gbaguidi & 
Kathryn Larsen
experts, critics and lecturers:
Alan Dempsey – Nex Architecture, 
Guy Mouton – Mouton, 
Anca Timofticiuc – Mensing Timofticiuc Architects, 
Diederik Veenendaal – Summum Engineering & 
Gregor Zimmermann – G.tecz Engineering
support:
Betonhuis Cement, FEBELCEM, InformationZentrum Beton & Cement Manufacturers Ireland
photography:
Robin Bakker & 
Laura Stassen (bureaubakker)